Why Is My Car Overheating?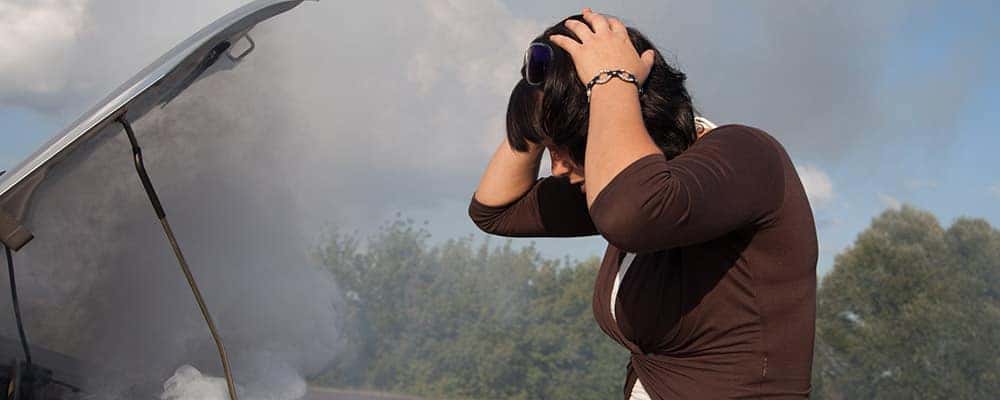 A car can overheat for a handful of reasons, including a blockage in hoses or perhaps most commonly, a leak in your vehicle's cooling system. Each and every car is supposed to stay between a healthy temperature that's typically between 195 and 200 degrees Fahrenheit. If you turn on your car one day and see that the temperature gauge reads above this normal range, then you should not drive. Doing so may put you and others at risk of injury, and driving in an overheated car will likely lead to much more expensive issues in the future. Discover exactly what can cause a car to overheat with Nyle Maxwell Chrysler Dodge Jeep Ram, and find out how you can prevent it from happening to you.
When a Car Overheats, What Does It Mean?
When a car overheats, it's likely because there's something much more substantial that needs fixing. Take a look at a list of the most common causes of overheating vehicles:
The cooling system is leaking – The leading cause of overheating is due to leaking cooling systems. Each component in a car's cooling system can see an issue with leakage, including the radiator, water pump, head gasket, hoses, and thermostat housing.
Your coolant is the issue – Coolant is available in various options that are suited for different cars. If your car has somehow been stocked with the wrong coolant, or perhaps the mixture of coolant and water was rationed poorly, then this can lead to an overheating engine.
The coolant hose has been blocked – If the issue isn't one of the previous two, then you may have some blockage in your coolant hose. Whether you're driving the streets of Round Rock or off-roading in Cedar Park, dirt and refuse can make its way into your coolant hose through the cooling system.
Your radiator is causing the problem – An equally common cause for a car to overheat is due to issues with the radiator. Leaks and blockages can occur with the car's radiator fan, which in turn can lead to overheating.
Failing water pump – A car's water pump is responsible for sending coolant through the cooling system, but your vehicle can easily overheat when a water pump shaft has shifted or sprung a leak.
What Do You Do When Your Car Overheats
It's likely that your car will only begin overheating once you've already made it onto the busy streets of Georgetown, so if this happens, here's what you should do. If your car begins to overheat and you've had the air conditioning on, switch it off and crank up the heat — this will take some heat away from the engine. Next, once you're able, pull your car over, and do not try to open your car's hood for at least a half-hour after you've turned the vehicle off. Finally, call a tow truck service so that you and your vehicle can be safely picked up and brought to a service station.
Put Your Trust in the Service Department at Nyle Maxwell Chrysler Dodge Jeep Ram!
Cars overheat all the time, and that's why the knowledgeable service experts at Nyle Maxwell Chrysler Dodge Jeep Ram are here to help! Bring your vehicle to our service department on a consistent basis so you can keep your car in the best possible condition. Contact us to schedule your next service with us in Austin. And while you're here, you can find more helpful guides like this one, including an explanation as to why your car may be shaking when you brake, a jumper cables tutorial, as well as an explanation on what tire numbers mean.
More From Nyle Maxwell Chrysler Dodge Jeep Ram
The 2020 Jeep Compass has the reputable Jeep interior to make those Round Rock drives feel like a luxury vacation. Take a look inside the 2020 Jeep Compass with Nyle Maxwell Chrysler Dodge Jeep Ram, and feel free to browse our Jeep Compass inventory to find the perfect Jeep Compass for your next road trip. Jeep Compass Inventory Contact…

The Jeep Gladiator is known for its versatility, and drivers never feel limited on the Round Rock roads. The same is true for the Jeep Gladiator color options. Having a plethora of colors from which to choose, you can pick a color that accurately expresses your unique self on the road. At Nyle Maxwell Chrysler Dodge Jeep Ram, you'll find…

How much can the Grand Cherokee tow? With up to 7,200 pounds of towing power, the 2020 Jeep Grand Cherokee can haul your vacation and getaway belongings, so you don't have to leave anything behind. You'll find that any of the vehicles in our Jeep Grand Cherokee inventory at Nyle Maxwell Chrysler Dodge Jeep Ram will have the power…