What We Know About the Jeep Scrambler Pickup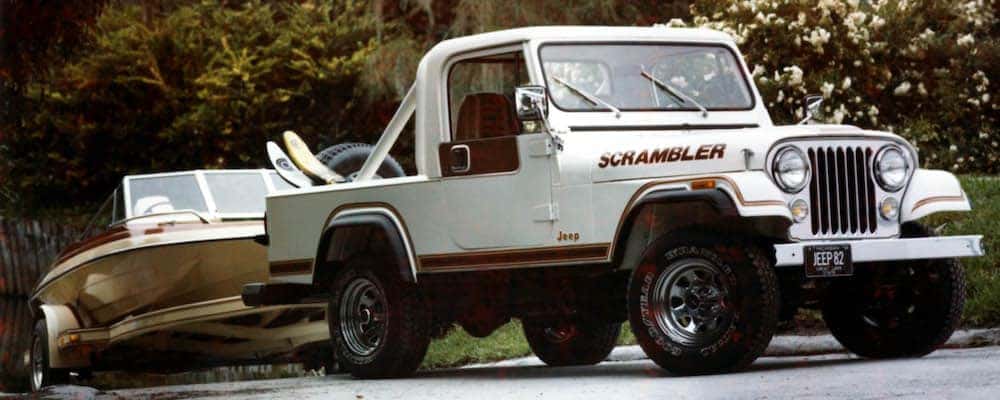 When the Jeep Scrambler finally comes out, it'll be the first time the Jeep brand releases a pickup truck in more than 25 years. They're no strangers to the pickup truck game — previous models have including the Jeep Willys-Overland 4×4 back in 1947 and the Jeep Comanche of the not-too-distant past, and the return of a Jeep truck has pulses racing across the automotive world.
How Does the Jeep Pickup Truck Look?
As ever, our first peek at the Jeep Scrambler is a little clandestine. Spy shots have been taken, but they only show a model covered in camouflaging. Even so, we have a pretty good idea of how the upcoming Jeep pickup will look. Expected to ride on a modified version of the Wrangler Unlimited frame, the Jeep Scrambler certainly seems built around the currentJeep Wrangler. Rock rails were spotted on both prototypes, so off-roading should be a Scrambler strength, and we think this is going to be long wheelbase version.
What Kind of Power Will the Jeep Scrambler Offer?
While we haven't yet heard official word of the Jeep Scrambler's engine lineup, we're expecting to find the familiar 3.6L Pentastar V6 paired with an eight-speed automatic transmission. A diesel option is likely, and we might even see a hybrid Jeep Scrambler further down the line. Performance seems optimized around both road and backcountry. One prototype appeared to be a Rubicon off-roader, while the other strikes us as a Sport model. You can go off-roading from Austin just as easily as you can cruise from Round Rock to Cedar Park.
When Will the Jeep Scrambler Be Released?
There's no release date yet, but production is rumored to kick off next April. Expect a reveal either at the Los Angeles Auto Show in November or at the North American International Auto Show in Detroit next January.
Contact Us Today for the Latest Jeep Wrangler Pickup News
Anyone who has experienced the power and capability of a Jeep Wrangler will want to hear the latest about any Jeep Wrangler pickup. To find out what we know, feel free to contact us today.