Free Activities in Austin, TX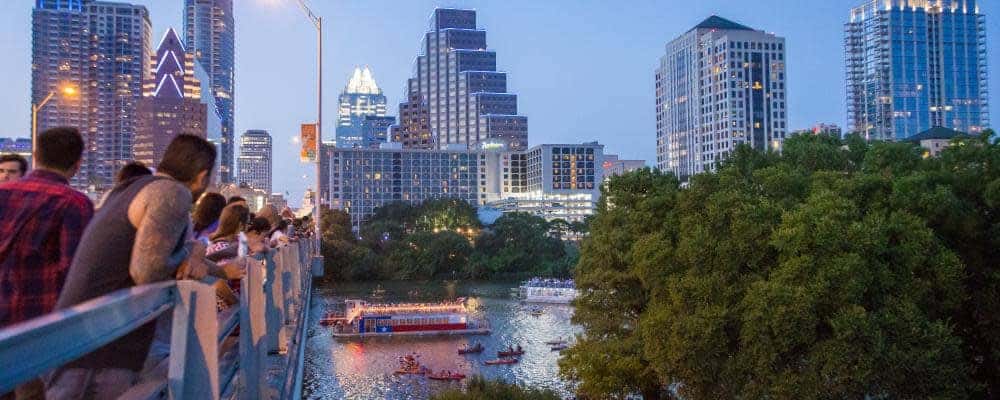 Those of us who work at Nyle Maxwell Chrysler Dodge Jeep Ram love to take advantage of everything Austin, TX has to offer. From the parks and river, to the lively downtown, there's a lot to do—and a lot of it is free! This fall, try some of—what we believe to be—the best free things to do in Austin, TX! After you've explored some of these attractions, check out our favorite spots for date night in Austin.
Zilker Park
Zilker Park is nature's playground! Also, they have actual playgrounds. Smack dab in the middle of Austin, Zilker hosts some of the best events in the city, like Austin City Limits. Thankfully, you can choose to also visit Zilker when there isn't a music festival. Zilker is 361 acres of bike ridin', canoe rentin', picnic havin' fun! The park, halved by the Colorado River, is fun for a lazy Sunday—and free. But if you do want to spend a few bucks, you can visit the Zilker Botanical Garden or Umlauf Sculpture Garden and Museum—they will literally cost you $5 or less.
Bullock Texas State History Museum
Explore the history of Texas at the Bullock Texas State History Museum (1800 Congress Ave, Austin, TX). The museum has three different floors that each have distinct viewpoints of the state and its history: land, identity, and opportunity. From NASA parts to the original Goddess of Liberty statue, there's always plenty to see! Plus, the first Sunday of each month is free.
Blanton Museum of Art
This University of Texas art museum is one of the best in the country. With a concentration on contemporary artists, Blanton Museum of Art (200 E. Martin Luther King Blvd., Austin, TX 78712) has showcased many fantastic American and Latin American artists. They also have great collections of Italian Renaissance and Baroque paintings. Thursday are free admission days for those prepared to be awed and inspired!
Watch Some Bats
Don't know about you, but the animal lovers at Nyle Maxwell Chrysler Dodge Jeep Ram think the Mexican Free-Tailed Bats in Austin—until the end of fall, at least—are cute. If you want to see them start their nightly routine, which is one of the best free events in Austin, stand near the Congress Avenue Bridge at dusk. Renovated in 1980, the bridge became a cave-like haven for migratory bats. Not only do the bats make for an amazing show when they exit the bridge in the early evening, they also keep pesky bug populations down.
Having Fun in Austin With Nyle Maxwell Chrysler Dodge Jeep Ram
For those from the Georgetown and San Marcos areas who love to visit Austin, check out our favorite free Austin events above. Have your own suggestions? Let us know! Need advice on a new vehicle, like a Dodge Challenger, Chrysler Pacifica, or Jeep Wrangler? We can help with that, too!