Date Night Ideas in Austin, TX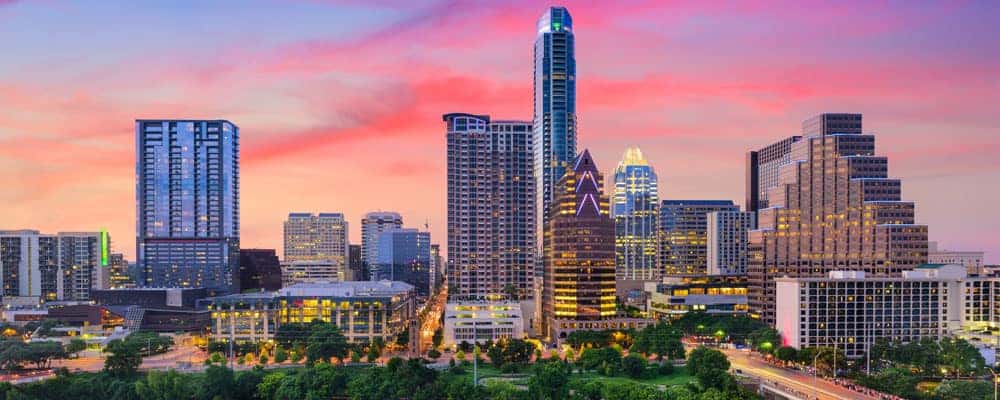 Have a date coming up and unsure where to go? If you're searching for date night ideas in Austin, TX, then allow the hometown experts at Nyle Maxwell Chrysler Dodge Jeep Ram run down some of their favorite places to visit and have fun in Austin! From dancing at the Broken Spoke to visiting the AFS Cinema & Event Hall for a movie premiere, there are plenty of places to go whether this is your first or fiftieth date. Once you've looked through the list we have below, if you want even more recommendations, then simply contact us! And if you want to make it an even more special date night, check out our favorite florists in Austin.
First up on our list of date night ideas in Austin, TX, we have the Broken Spoke dance hall, which has been playing authentic honky-tonk music since 1964! Located at 3201 S. Lamar Boulevard, you and your date can enjoy the sounds of country legends like Dolly Parton, George Strait, and Willie Nelson, all of whom have performed at the Broken Spoke in the past! On top of the music and dancing, make sure you check out the broken Spoke's "Tourist Trap" store, which has country music memorabilia as well as gift shop items on sale.
The Austin Film Society's own two-screen art house theater hosts a wide selection of films from new premieres to restored classics as well as documentaries, any and all of which would make a great night out for you and your date. While the cinema is located at 6406 N. I-35 Suite 3100 in Austin, the AFS organization was actually founded in 1985 by renowned indie filmmaker Richard Linklater (director of films such as Boyhood and Dazed and Confused). Come grab a seat for some of the best films you're likely to see all year!
Perhaps not as intense as visiting and dancing at the Broken Spoke, but definitely more active than seeing a movie at the AFS Cinema, TopGolf Austin is an awesome date experience for two. If you don't know what TopGolf is, it basically marries the game of golf with darts. You and your date can play head-to-head to see who can best one another! And, you don't even need to be a golf enthusiast, as 85% of all TopGolf visitors count themselves as being non-golfers.
For the final date night idea on our list, we're stopping at the extravagant and decadent Antonelli's Cheese Shop, which is located at 4220 Duval Street in the historic Hyde Park neighborhood. Known as one of the top cheese shops in the U.S., Antonell's delicious cheese is cut-to-order and has other goodies like chocolates, meats, and preserves for sale as well. Take your date for a private Cheese & Wine Tasting!
Discover More About Austin, TX with Nyle Maxwell Chrysler Dodge Jeep Ram!
Which of these date ideas in Austin, TX is going to be put onto your list? If you want even more recommendations, you can of course contact us, or even take a look at our favorite Mexican or pizza restaurants in Austin. Whether you're coming from Round Rock, Cedar Park, or somewhere far beyond, Austin is a beautiful city with so much to offer! While you're here, be sure to take a peek at our inventory of new and pre-owned vehicles or compare our models like the Dodge Journey vs. Dodge Durango!
More from Nyle Maxwell Chrysler Dodge Jeep Ram
At Nyle Maxwell Chrysler Dodge Jeep Ram, we'll take any opportunity we can get to enjoy the outdoor and indoor events constantly happening in Austin, TX. From the beautiful parks to the ever-expanding downtown area, from museums to music venues, Austin has an infinite number of activities to explore! That's why we're sharing our favorite fall activities in Austin, TX…

Have a date coming up and unsure where to go? If you're searching for date night ideas in Austin, TX, then allow the hometown experts at Nyle Maxwell Chrysler Dodge Jeep Ram run down some of their favorite places to visit and have fun in Austin! From dancing at the Broken Spoke to visiting the AFS Cinema & Event Hall…

Are you searching for the best vegan restaurants in Austin, TX? Well, with the plethora of vegan and vegetarian options available in our great city, the helpful staff at Nyle Maxwell Chrysler Dodge Jeep Ram has decided to help you find the four best vegan restaurants in Austin, TX. Get a glimpse below at some of our favorites, including Next…