Where Can You Find the Best Pizza in Austin?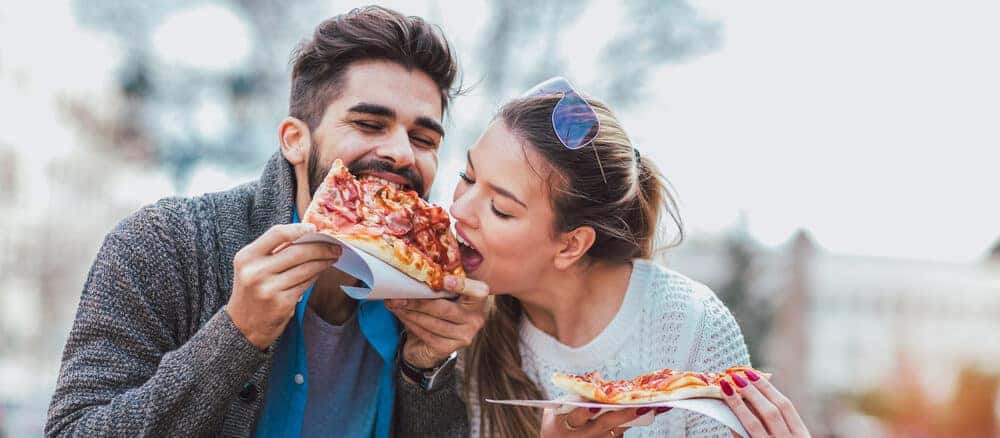 At Nyle Maxwell Chrysler Dodge Jeep Ram, we think that everyone can relate to the craving for a delicious slice of pizza. Whether you go for classic cheese or pepperoni, or you like to mix things up with pineapple and Canadian bacon, pizza offers something for everyone. The next time you want a slice or a whole pie, check out some of the best pizza places in Austin.
Best Pizza Places in Austin
Little Deli & Pizzeria: If you're looking for a quiet neighborhood pizza place, head to Little Deli. This eatery serves up New York-style pizza baked in 2-inch stone ovens. The pizzas are made with classic dough and toppings, or you can opt for a specialty pizza. It's served by slice or whole, depending on your hunger level.
Tony C's Coal Fired Pizza: This spot is one of the only pizzerias in Austin that makes coal-fired pizza (as you probably guessed by its name). There are a variety of appetizers and salads to choose from, as well as plenty of 'za. Opt for the Carnivore that's loaded with different meats, the Prosciutto & Goat Cheese, the classic Margherita, or the Bianco with a white sauce base.
The Backspace: Another place to set some of the best pizza in Austin in The Backspace from chef Shawn Cirkiel. It's located near his gastropub, Parkside. Thin-crust lovers will appreciate the wood-fired Neapolitan-style pizza. The pizzeria opened in 2010 and offers a selection of shared plates and antipasti along with its pies. Some favorite pizzas here include the margherita, smoked brisket, pepperoni americano, and fennel sausage.
Unit-D Pizzeria: Unit-D is another pizzeria known for its Neapolitan pizzas. The oven here was created by a Naples-based oven maker that's been making ovens for more than a century. The dough, sauces, mozzarella, desserts, and more are all made in house. Share a small plate of fried green tomatoes with with harissa buttermilk or stuffed cherry tomatoes before digging into a spinach and artichoke, mushroom, or pepperoni primo pizza.
East Side Pies: This pizzeria also serves some of the best pizza in Austin. They use fresh, local produce and create cracker-thin crusts with unique sauces like black bean and chimichurri, as well as traditional red sauce. Toppings range from traditional to more eclectic, such as sweet potatoes, pulled pork, spicy slaw, and jerk chicken. Pair your pie with a side of pepperoni rolls or garlic knots, and finish it off with a blondie, brownie, or black and white cookie.
Enjoy All That Austin has to Offer
If you're not in the mood for pizza, there are plenty of places you can find amazing Mexican dinner or vegan options. Whatever you decide to eat, finish off your evening with a lovely stroll around Lady Bird Lake or with with at drink at a local Austin brewery (but make sure you have a designated driver!). For even more, take a look at our list of favorite Austin date night ideas.
More Things to Do in Austin
At Nyle Maxwell Chrysler Dodge Jeep Ram, we'll take any opportunity we can get to enjoy the outdoor and indoor events constantly happening in Austin, TX. From the beautiful parks to the ever-expanding downtown area, from museums to music venues, Austin has an infinite number of activities to explore! That's why we're sharing our favorite fall activities in Austin, TX…

Have a date coming up and unsure where to go? If you're searching for date night ideas in Austin, TX, then allow the hometown experts at Nyle Maxwell Chrysler Dodge Jeep Ram run down some of their favorite places to visit and have fun in Austin! From dancing at the Broken Spoke to visiting the AFS Cinema & Event Hall…

Are you searching for the best vegan restaurants in Austin, TX? Well, with the plethora of vegan and vegetarian options available in our great city, the helpful staff at Nyle Maxwell Chrysler Dodge Jeep Ram has decided to help you find the four best vegan restaurants in Austin, TX. Get a glimpse below at some of our favorites, including Next…